Real estate giants diverted, speeded up using technology to sell houses, respond to Covid-19
Many experts said that the shock from "Covid-19" showed the agility, timely adaptation of many real estate businesses. This is like a reagent, if anyone is going to have a good pain over this period, it will stay on the market for a long time.
Covid-19 not only created a strong shock to the Vietnamese economy but also caused many real estate businesses to suffer because of the sharp decrease in transaction volume. Many small real estate companies have just been established and many brokers have been forced to close or temporarily activate "hibernation". According to statistics, since the beginning of the year, there have been more than 300 exchanges having to close or cut down the size and personnel.
For large enterprises, in order to stay in the market, they have to change their approach to customers. The agility of many business leaders is shown by the ability to improvise ahead of time, embarking on technological applications to operate on the whole system.
Real estate experts all say that the real estate industry has never had to work online as much as it is today, the application of technology has never been so urgent. Real estate is a product of great value, customers often have a habit of being watched live, touched and thoroughly studied. From inquiry to purchasing decision, sometimes it takes from 1 week to a month.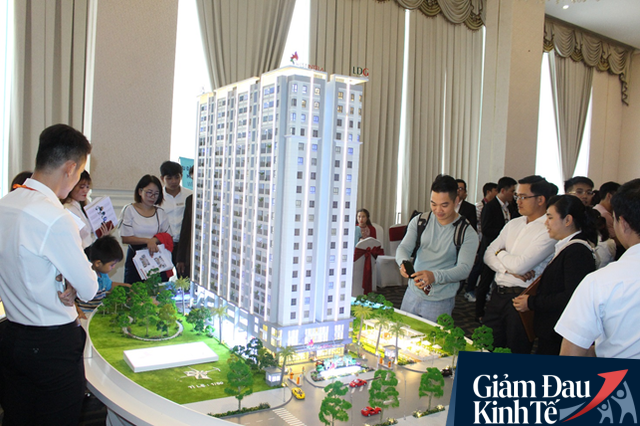 On the other hand, Covid-19 restricts human-to-human contact forcing businesses to change their approach in time. Instead of "face to face" with customers, now the technology software is applied to increase the experience through the screen. The biggest difficulty is how customers can see the product in many different niches but still ensure the practicality.
To do this, some businesses livestream at the project site, or use software such as Fastkey, Reality Scanning with 3D images. Typically, big companies such as Hung Thinh, LDG, An Gia Group, Vingroup, Novaland … promptly put technology applications into operation to interact with customers.
Although the number of transactions decreased compared to 2018, all employees at real estate companies are familiar with the new way of working. Services are via phone, exchanged via videocall system such as Facetime, Skype Live Chat, Video chat … When deciding to own, customers only need to transfer and carry out the procedure via online channel.
LDG representative said: "This job will cost more than in changing processes, building systems, upgrading infrastructure and software investment … but will ensure safety for customers and however, we still do not increase the price of the product because of the cost incurred".
Or in the Dat Xanh Mien Bac, online advertising activities, marketing via sms, email are also promoted. There are more than 50 projects on sale by the Company, which introduces a model house for customers to watch instead of coming directly.
For example, Van Phuc Group has applied the Fastkey software of Property Guru Singapore to sales at Van Phuc City project, Thu Duc district, Ho Chi Minh City. Sunshine Group applied sales technology through Sunshine App. Accordingly, all project information, sales policies … are included in the application and from here, salespeople can directly consult 1-1, or 1-2 for customers, but not need to go to the focus sale.
According to Mr. Do Anh Tuan, Chairman of Sunshine Group, the project of building sales applications has been long cherished by businesses to solve the problems that Vietnam market has lacked in the past. At the same time, this is the application of technology to reduce labor costs, operating costs, thereby reducing product costs, bringing real value to each customer and every link in the apparatus.
A series of other businesses have also been "quick" to participate in the sales race with technology such as LinkHouse Company to launch LinkHouse App, Khai Hoan Land Company also launched a sales app, real estate trading websites like Youhome, Batdongsan.com.vn … all have their own application software.
Recently, VinGroup has also launched Vinhomes online real estate trading floor. All information on the location, planning as well as sales documents of the projects on sale in Vinhomes Online are published fully and in detail on the website. Also on Vinhomes Online, all sales policies, exclusive offers and pricing will be announced.
The process of buying real estate is done through 4 operations: Register/sign in – search for products – choose the right products – make a deposit/order.
According to experts, the digital transformation in real estate can occur faster through the Covid-19. Many companies realize that educating employees and brokers to become familiar with online working methods is essential at all times.
It can be seen that Covid-19 is not in the real estate business scenario, but thanks to its good pain tolerance, adaptability and agility, it helps businesses go half way though face many difficulties.
According to experts, the market will sometimes go up and down, this is just a challenging period of "suffering" for businesses and the market is implementing the screening mechanism. If the epidemic continues until the end of 2020, preparing a scenario to return is essential for all businesses. Overcoming difficulties this time, businesses will have more opportunities to develop and towards sustainable value, while regaining the confidence of home buyers.
Source: cafef.vn